Compliance can be complicated and time consuming – we make it easier.
Technology alone is like a hammer – it's just a tool. Unless the hammer is in the hand of a skilled craftsman, we cannot expect that it will build a house on it's own. However, when the proper tools are combined with the right skill and materials, we can build something awesome. That's where we step in, we help you use the tools to run your firm and stay compliant.
Technology Alignment
Align your written policies and technology and help keep the two in sync.
Reporting
We document and report on the status of your environment.
Custom Assessments
We will build a custom assessments based on your policies and test them.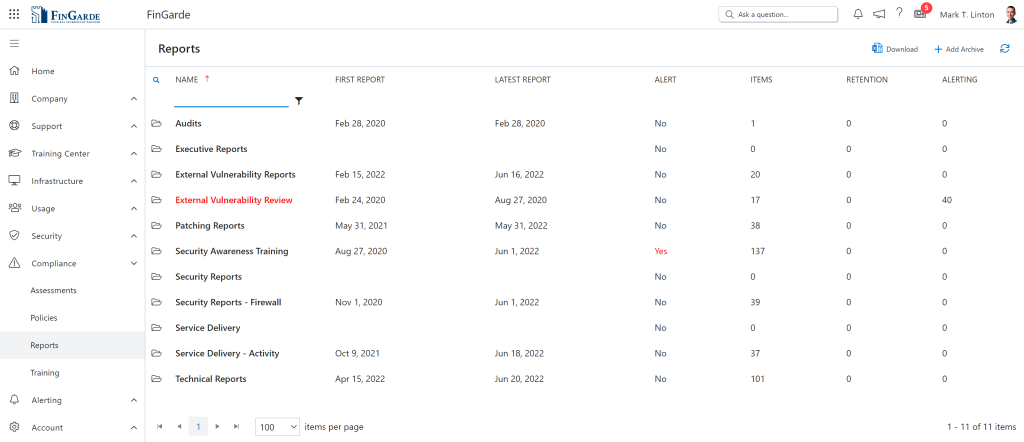 Your technology compliance reports will be uploaded to a client portal where you can access them at any time. Real time access gives you (and your auditor) access to the information when you need it. Of course, you can always request a custom report form us should you need it.
If you are unsure about your current IT environment, we will provide a free, one-time risk assessment for your RIA. Complete this form to get started.
Our Vision
To be a partner of such high value, that our clients cannot imagine doing business without us.
The information provided on this website does not, and is not intended to, constitute legal advice; instead, all information, content, and materials available on this site are for general informational purposes only. Information on this website may not constitute the most up-to-date legal or other information. This website contains links to other third-party websites. Such links are only for the convenience of the reader, user or browser; FinGarde does not recommend or endorse the contents of the third-party sites. Readers of this website should contact their attorney to obtain advice with respect to any particular legal matter. No reader, user, or browser of this site should act or refrain from acting on the basis of information on this site without first seeking legal advice from counsel in the relevant jurisdiction.